Another devastating story of a young man, only 14-years old, who has taken his life in what looks to be another case of bullying, hit the news on September 18, and people across the United States are mourning along with the family in the wake of this recent tragedy.
Jamey Rodemeyer, from Williamsville, New York, was found dead outside his home, after taking his own life. His parents, Tracy and Tim, reported that Jamey has been bullied due to his sexuality for years, but things got worse for him when he was in middle school.
According to Jamey's parents and friends, he was tormented relentlessly on social networking websites where people posted hateful comments because of his sexuality. One post said, "JAMIE IS STUPID, GAY, FAT ANND [sic] UGLY. HE MUST DIE!"
Another post read, "I wouldn't care if you died. No one would. So just do it It would make everyone WAY more happier!"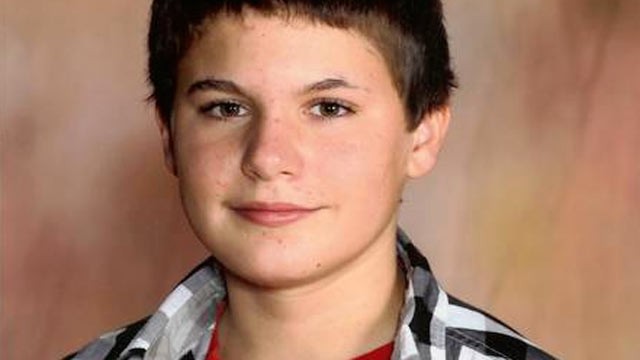 Jamey blogged about being bullied and even wrote of his thoughts of committing suicide. He posted this comment on his Facebook page, "I always say how bullied I am, but no one listens. …What do I have to do so people will listen to me?" And he wrote, "No one in my school cares about preventing suicide, while you're the ones calling me [gay slur] and tearing me down."
Tracy and Tim had gone to the school to try to get some help for their son, and Jamey had also spent some time talking to the counselor. And when he came out, telling people he was bisexual, he received encouragement from his friends and family, which seemed to give him hope.
Jamey even posted a message in May to other kids like him on the YouTube website, It Gets Better project. In it, he talks about how difficult and relentless the bullying had been and that it felt at times that he couldn't escape it. Yet, he encouraged those listening to fight off the bullies, and told them he was doing better.
He spoke about Lady Gaga who has staunchly supported gays and lesbians and has spoken out about bullying. He said she had given him hope, and made his life easier. He said, "She makes me so happy, and she lets me know that I was born this way."
He ended his message saying, "So, just listen here. It gets better, and look at me. I'm doing fine…"
Jamey was a freshman this year at Williamsville North High School, and he seemed to be doing better. His parents said he seemed happy and stronger, and his friends described him as caring and friendly. Jamey had been getting help from a social worker and therapist to deal with his issues.
In spite of signs that seemed to indicate Jamey was doing better, he took his own life on September 18, leaving behind grieving parents and friends.
The Rodemeyers hope to use this tragedy to spread a message of acceptance and anti-bullying. Tim told reporters, "To the kids who are bullying they have to realize that words are very powerful and what you think is just fun and games isn't to some people, and you are destroying a lot of lives."
And Tracy hopes that the tragic loss of their son will help teach a message of tolerance. "It took him away from our family way too early and we're just convinced that he had a purpose on this planet and it was to touch as many people as he could."
Jamey's hero, Lady Gaga was clearly saddened by Jamey's unnecessary death. She paid tribute to Jamey at the iHeartRadio Festival in Las Vegas this past weekend, dedicating her song "Hair" to young Jamey.
With Jamey's picture on the big screen, Lady Gaga made this emotional comment before she sang her song, "I wrote this record about how your identity is really all you've got when you're in school … so tonight, Jamey, I know you're up there looking at us, and you're not a victim."
Earlier, Lady Gaga had expressed her grief on twitter, writing: "The past days I've spent reflecting, crying, and yelling. I have so much anger. It is hard to feel love when cruelty takes someones life. Bullying must become illegal. It is a hate crime. I am meeting with our President. I will not stop fighting. This must end. Our generation has the power to end it. Trend it #MakeALawForJamey."
Tracy Rodemeyer said that her son would be buried in the shirt that meant so much to him. It proudly proclaims: "Born This Way."
I leave you with these sobering statistics, as reported on ABC World News: In the last year that statistics are available, it was reported that 39% of America's sixth-graders reported being bullied. Those statistics shrunk in high school, where it was reported that about 20% of seniors reported being bullied.
But here is the tragedy: While the numbers shrunk for most high school students, they remained the same for gay and lesbian students, with 90% reporting being bullied.
Lady Gaga is absolutely right when she says this is a hate crime, and it must be stopped.
Bullying, Teacher-World's Blog, teen suicide bisexual, Bullying, Jamey Rodemeyer, Lady Gaga, teen suicide