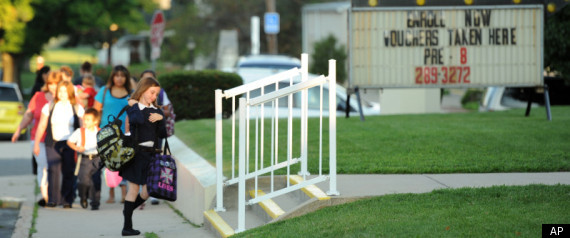 Under a new law in Indiana, which is considered to be the nation's most extensive school voucher program, thousands of students are transferring from their local public schools to private schools, particularly to religious schools. As a result, many Catholic schools which have been on the brink of closing are seeing an increase in enrollment, which is allowing them to stay afloat. But what does this mean for the public schools that have been left behind?
Under this new law, signed into effect in May by Gov. Mitch Daniels, a whopping 3,200 Indiana students are receiving vouchers to attend private schools, a figure that will likely increase over the next few years as parents become more aware of this option and current limits as to the number of applicants allowed are lifted.
Before this law was passed, most voucher systems were limited to students who were attending schools which were failing, those with special needs, or those who came from poor families. But with the passage of this new law, students from middle-class homes and sound school districts are now eligible for vouchers, too.
Probably not surprisingly, according to figures provided by the five dioceses in Indiana to The Associated Press, almost 70% of those vouchers which have been approved throughout the state are for students who are choosing to enroll in Catholic schools, and most of these are in large cities such as Indianapolis, Fort Wayne, South Bend, and Gary, where many of their public schools have been struggling academically.
John Elcesser, executive director of the Indiana Non-Public Education Association, was not surprised by these numbers since most Catholic schools already have state accreditation, are more established, and have more space available. This is not the case with some of the other private schools which are part of the voucher system.
Sign outside Our Lady of Hungary Catholic School
Two short years ago, Our Lady of Hungary Catholic School in South Bend was on the verge of closing due to low enrollment. Since the passage of this new law, enrollment has increased almost 60% over its enrollment last year.
In 1953, at the school's height, it had 702 students, but last year, that figure had dropped to 135. It is currently reporting an enrollment of 213 students. Due to this increase, the school has had to hire three more teachers, and all of its students are separated into single classes now except for seventh and eighth graders. This is a huge change from the past when grades were combined due to low enrollment.
Principal Melissa Jay said, "This has exceeded all crazy expectations."
Other states, like Ohio, where voucher programs have been introduced, have experienced a similar increase in parochial school enrollment. Chad Aldis, the executive director of School Choice Ohio, said that when students from low-performing public schools in Ohio were able to use vouchers to enroll in private schools, approximately 70% used theirs to attend Catholic schools.
But this is a situation which has concerned advocates of public schools since the voucher system was announced. Students who leave take these vouchers or government-issued certificates with them, which can be applied instead to private schools for tuition, thus taking necessary tax dollars with them which would normally go to local public schools.
Some opponents of the voucher system claim that it violates separation of church and state. Be that as it may, it most definitely hurts public schools which already are facing significant cuts to their already lean budgets.
President of the Indiana State Teachers Association, Nate Schnellenberger said, "The bottom line from our perspective is, when you cut through all the chaff, nobody can deny that public money is going to be taken from public schools, and they're going to end up in private, mostly religious schools."
As a result, some school districts are going so far as to plead with parents not to move their children out of their public schools. The South Bend school district stands to lose $1.3 million in funding if every student who signed up for vouchers leaves their district.
As a result, Carole Schmidt, the district's interim superintendent told the principals in the district to call the parents of these students who are leaving the district to try to convince them to stay. A bold move which I hope pays off!
I know that many of you out there think the voucher system is great. I have debated with several of you over the last year about this very topic. So I know this will probably open a hailstorm of heated opinions, but let me try once again to state my opinion calmly.
I have no problem whatsoever with parents choosing where to send their children to school. That is most certainly a decision that is theirs to make. However, to siphon tax dollars which were originally earmarked for public education, especially at a time when most school districts are already facing devastating budget cuts, is irresponsible. And it certainly will do nothing to improve the quality of education in these schools whose budgets will be further reduced.
Some of you have argued that public schools mismanage their money and need to utilize what they have more productively, and that is probably somewhat true. But please remember, it isn't the teachers who are mismanaging the money. We have no say in how our district's resources are spent. Yet we will be the ones who have to find creative ways to cope with limited resources, which means digging even deeper into our own wallets, when our salaries are either being frozen or reduced. And we will be the ones who will be expected to provide the same quality of education to our students in spite of outdated textbooks, outdated technology, and ever decreasing personnel.
The district I teach in is growing all the time, so this voucher system really doesn't affect me or those I work with. We also have maintained our ranking of "Excellent with Distinction," so we are a school which would tend to draw students rather than lose students to other schools.
But my heart goes out to schools in Indiana which are located in big urban areas. They face so many struggles already, both within and outside their schools, and this seems like just one more setback in a long list of setbacks for these districts and for the many good people employed there.
Funding Education, Teacher-World's Blog Catholic schools, Indiana voucher law, private schools, public schools