Imagine being a mother of one of Jerry Sandusky's victims. Imagine the frustration you would feel if you could not get people to believe or to act upon the allegations your son was making about this man, whose reputation was so great that people were willing to turn their backs on so many clues of terrible misconduct. What would you do if, because your son had come forward, he faced threats and harassment at his school? The mother of the first victim to come forward in the Jerry Sandusky case is speaking up on behalf of her son and on behalf of all of the unfortunate victims of Sandusky's alleged sexual abuse.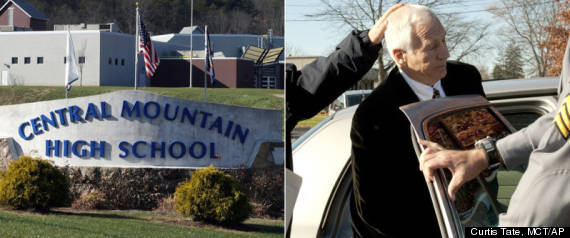 You probably already know about the young boy from Central Mountain High School in Mill Hall, PA, who was the first to blow the whistle on the ex-Penn State assistant football coach, Jerry Sandusky. But in a recent interview, this victim's mother reveals some frightening information regarding how this school mishandled her son's allegations. To say that her recollection of the events is different from the school's recollection would be a major understatement.
The mother claims that her son had been active in Sandusky's Second Mile program; Sandusky's charity to work with underprivileged kids. She even recalls meeting him at the camp once. Things seemed to be going well with her son until the end of his eighth grade year (at a school where she frequently saw Sandusky in the hallways) when she says he was "getting mouthy and nasty at home." She explained that she called the school psychologist asking for some help, but they chalked it up to puberty, told her he was a good kid, and that it would all work out.
She said that she didn't suspect anything was wrong at this point, so she let it go, until his first year at Central Mountain High School, where Sandusky continued to be a constant presence. It was at this point that her son asked her how he would go about looking up "sex weirdos" and indicated that he wanted to look up Jerry because he was a "weirdo."
When she tried to question him further, she said, "He didn't come out and say anything directly about Jerry at first. He started telling me that he was upset about his school and his grades and that he felt everyone hated him. At first I thought he was just saying what any child says when they're stressed out or in trouble. I reassured him that no one in the school hated him. That's when he told me that they did, because he was always getting pulled out of class."
She said her son then revealed something she was learning for the first time; several times a week and sometimes daily, he was being taken out of school by Jerry Sandusky, all without her permission or knowledge. Now, this is totally against any school policy I have ever known. No one can take a student from their school without the direct consent of that child's parent or guardian. Why did this school ever allow this to happen?
"I didn't know about that," she said. "I was never aware that he [Sandusky] did that." In fact, she learned later that it was Steve Turchetta, who was the assistant principal as well as the varsity football coach, who granted Sandusky access to this boy without ever requiring her permission or notifying her in any way.
According to the grand jury indictment, Turchetta defended his inappropriate actions, saying that it wasn't an unusual occurrence to "call a Second Mile student out of activity period at the end of the day, at Sandusky's request, to see him." When the dust settles on the Sandusky case, Steve Turchetta needs to be held accountable for the part he played in this alleged sexual abuse scandal. It seems that he allowed his respect for Jerry Sandusky's reputation to cloud his judgment when it came to protecting his students.
It was at this point, that the victim's mother knew that something wasn't right. She said she contacted the counselor at her son's school to express her fears and suspicions. She said, "I finally said to the counselor, 'You're a mother. I'm a mother. I have a gut feeling that something isn't right.'"
She also talked to Karen Probst, the school's principal, telling her that she did not appreciate the school giving Sandusky the right to take her son out of school without her knowledge and demanded that these visits stop. But she claimed that the principal acted as though her suspicions were groundless and there was nothing to be concerned about.
"The principal just waved it off, saying, 'You know; it's Jerry. He's around the school a lot and talks a lot with Second Mile kids. He has a heart of gold.' I was furious. They were defending this guy," she said.
Giving up on the principal, who was clearly not listening to her, she asked to have the counselor speak to her son. Just a few hours later, she said she received a phone call from Probst who asked that she immediately come to the school.
She recalled that when she got to the counselor's office, her son was crying uncontrollably, and the principal told her that her son thought something inappropriate might have happened with Sandusky. At this point, he told his mother that Sandusky had been abusing him.
After hearing what she had dreaded the most, his mother announced they we're going to call the police. But she claims that both the counselor and principal suggested that she think it over and consider how it would affect her family if she were to call the police. "I repeated the line three times. I said let's call the police. Right now. Let's do it. And they continued to stare at me," she said.
She said that at this point her son began rocking in his chair, shaking his head and sobbing, "See! They don't believe me!"
According to this mother, neither the principal nor the counselor responded in any way to her or to her son. She said that they offered no condolences. "I remember saying, 'I'm not playing. This isn't funny. I mean seriously, look how upset he is! Something happened.'"
Instead of coming to this boy's rescue, his mother said that Probst said, "Jerry has a heart of gold, he's been around all these kids and you really should just go home and think about what this is going to do to your son and your family if you do that." When the dust settles on the Jerry Sandusky case, Karen Probst and this counselor need to be held accountable for the parts they played in this sexual abuse scandal. Whether it was misguided reverence for Sandusky or fear over the part the school played by its misconduct coming to light, these women did not perform their duties to protect the safety of one of their students. And their unwillingness to comfort this boy and his mother who were clearly devastated is beyond reprehensible!
At this point, this distraught mother took her equally distraught son home and called a friend who worked with the state's Children's Youth Services program, who took them to the Services center. It was here that they met Dr. Mike Gillum, a licensed psychologist who has a private practice in Williamsport. He has worked with the state on child abuse cases and has been working closely with these two ever since. It was Gillum who called Probst to inform her that Sandusky was the subject of an abuse investigation and that he was not to be allowed near the school or this boy.
It has never been explained by Turchetta or Probst, or any other school official, why Sandusky was allowed to take this boy from the school without his mother's permission. Sandusky was barred from the school, but according to his mother, her son has faced terrible repercussions for stepping forward.
She said that only Child Youth Services, the police, Gillum, a few school administrators and immediate family had been told what happened to her son. Yet, she was shocked to discover that Turchetta, apparently angry over the removal of Sandusky from school grounds and the football team, talked openly about her son's case at his weekly football parent meeting. She learned this from a grandmother of one of the football players, who also told her, "Coach Turchetta said these charges are never going to stick and he'll walk away."
The mother claims that after her son developed a close bond with a 28-year old volunteer coach, Turchetta approached her son, got in his face, and yelled, "With what you've done already, no 28-year-old man needs to be around you."
She said, "I think he was accusing my son of having some kind of relationship with him. That's how my son took it, too."
Recently, she learned that some students were threatening her son, so she immediately reported her concerns to Principal Probst, telling her, "I heard that some kids were going to do some gang beating on my son. I want to make sure you are aware of that and that Mike Gillum was going to talk to the county to see if we could get some police up there, to take whatever measure's to keep him safe."
Probst told her they would discuss it and get back with her. But when she finally heard back from Probst, she said, "There was nothing about her meeting, nothing about my son's safety. No response to the threat that some kids were going to hurt my son. Instead she brought up the BB gun they apparently found over a month ago. She said that he left the school distraught and had a BB gun. And I thought, 'What are you getting at now?' What's that BB gun have to do with this? That BB gun is rusty and probably 100 years old. It's been sitting in his car forever."
This mom finally had enough. She removed her son from Central Mountain High School and is hoping that in a new environment he may be able to heal.
I hope that when the dust settles on the Jerry Sandusky case, this school and its officials will be held accountable for the horrendous way they handled this family as well as the potential danger they placed other young boys in by allowing Sandusky free reign in their school.
Ironically, on Nov. 7, Central Mountain High School was praised by Pennsylvania State Attorney General Linda Kelly for "doing the right thing" regarding the Sandusky matter. According to the indictment, the school immediately called the police when it became aware of the abuse, a fact that this mother firmly refutes.
In a statement Gillum made regarding the actions of the school compared to their statements regarding their actions, he said, "Given the disparity between the actions taken when the initial symptoms were observed and the mother requested intervention to determine whether or not he was being victimized by this man, and then for the school officials to resist pursuing law enforcement or children and youth services, then later down the road to have officials claim that they were suspicious of Jerry Sandusky, or concerned about him, is obviously not congruent."
Obviously it is not, and just as obviously, this school played a part in the alleged victimization of this boy. When the dust settles in the Jerry Sandusky case, I would hope that this school is held accountable for their inaction and the part they played in allowing this alleged sexual offender unapproved access to potential victims!