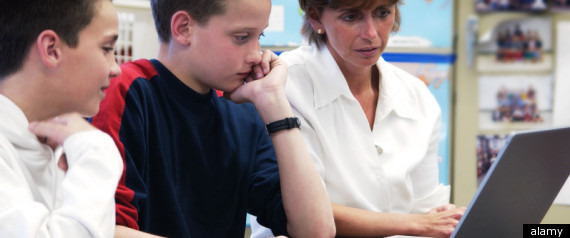 Heavy controversy surrounds Idaho's new education plan which, among other things, makes Idaho the first state to require high school students there to take at least two of their high school credits online in order to graduate.
In spite of the fact that this proposal received heavy opposition this past summer at public hearings across the state, the education board gave its initial approval to the online graduation requirement in September. Over the month of October, trustees collected feedback regarding this requirement during a 21-day public comment period.
Those who were for the virtual classes claim that it will help the state to save money while better preparing its students for college. But those who were against the requirement claim that it will reallocate state taxpayer money to the out-of-state companies which would provide the online curriculum and the laptops. They also expressed concerns that the state will ultimately replace teachers with computers.
Board member Don Soltman said, "A majority of the comments felt there should not be an online learning requirement."
Yet, in spite of huge opposition to this online requirement, the plan received final approval Thursday. This law will apply to students who are entering the 9th grade in the fall of 2012. It will then go before Idaho lawmakers for review in the 2012 session, which begins in January.
It comes as no surprise that the Idaho Education Association criticized the decision in a statement on Thursday, where they said that the board "overruled the wishes of a majority of Idahoans and disregarded parental choice" by mandating the online credits.
Online learning advocates, however, feel that this requirement is reasonable because it is necessary for children to be prepared for life after high school.
Susan Patrick, president of the International Association for K-12 Online Learning, a Washington-based nonprofit, and an obvious proponent of online learning, argued, "There is still a live teacher. It may be at a distance, but that teacher is still instructing and interacting with the student."
One of those opposing this new requirement is Kendra Wisenbaker, an elementary school teacher in Meridian, the largest school district in Idaho. While she agrees that some students may actually flourish from online learning, she also expressed concerns, saying, "The poor kids are guinea pigs. I am a little conflicted, I am. It won't work for every kid, and I think requiring it is a horrible idea. But it shouldn't be an option for saving money,"
Members of the Idaho State Board of Education have stated that the majority of the opposition people are expressing is directed at the whole education law, not just the online requirements. While state legislatures nationwide are tackling education policy this year, education experts agree that Idaho has made some of the most far-reaching changes of any state.
Idaho's new education plan is introducing merit pay, limiting union collective bargaining rights, and reallocating money from salaries toward changes which include more classroom technology; all part of the changes backed by Idaho's governor and Tom Luna, the Superintendent of Public Instruction.
Some in Idaho have praised Luna for changing how the state's limited education dollars are being spent and for working to fix a badly broken system.
But others, including educators, have heavily criticized Luna's plans. In fact, a group sought to recall Luna because of the education changes, but they failed to garner enough signatures earlier this year to be successful. Since then, parents and teachers who want to overturn the new laws met a June deadline to put three repeal measures on 2012's November ballot.
What's my opinion? First, while I understand the need to cut costs, I don't understand how that is going to happen if tax dollars are simply being sent out of the state to provide curriculum and technology.
Second, online learning is certainly a wonderful alternative for some students and being exposed to this avenue of learning is probably very constructive for them. But to make it mandatory is ludicrous. There are students who will struggle with this method of instruction: students on IEPs, those with ADD or ADHD, students with vision problems, etc. Forcing all students to conform to this type of instruction is diametrically opposed to basic educational philosophy which requires us to meet children's individual needs based upon their dominant learning style. Shouldn't the superintendent of public instruction be well-versed in basic school pedagogy?
Finally, do I worry that computers could take the place of teachers some day? Well, who can really say what the future holds, but I will tell you, without any hesitation, that there is no computer online course on this earth that can ever replace a caring, sensitive, child-motivated, highly-trained, competent teacher. Teachers don't just teach; they nurture. No online program can ever compete with that.
Changes in Teaching, Educational Reform, Merit Pay for Teachers, Teacher's Unions, Teacher-World's Blog Idaho Education Association, Idaho's new education plan, K-12 Online Learning, online classes, Tom Luna