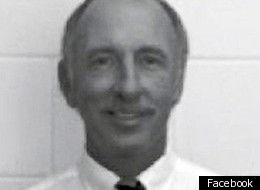 A story from Florida at the end of August really has me fired up. It's a story about a 54-year old, devout Baptist who teaches history at Mount Dora High School in central Florida. And it's a story about bigotry at its ugliest.
Many would say that Jerry Buell is a very good teacher. In fact, in 2010, he received Mount Dora's (a public school in the Lake County School District) teacher of the year award.
However, Jerry made a terrible decision this summer after watching a report on New York State's legalization of gay marriage, when he angrily posted the following vicious attack against gays and gay marriages on Facebook:
"I almost threw up … Now they showed two guys kissing. If they want to call it a union, go ahead. But don't insult a man and woman's marriage by throwing it in the same cesspool… God will not be mocked. When did this sin become acceptable?"
Buell published a second post after some of his Facebook friends reacted negatively to what he had posted, saying: "If one doesn't like the most recently posted opinion, based on Biblical principals and God's law, then go ahead and un-friend me. I'll miss you like I miss my kidney stone from 1994." (Nice, Christian sentiment, right?)
It should come as no surprise that the school system found his remarks unacceptable and launched an investigation to determine whether Buell had violated the district's ethics code thus compromising the district's students' safe and unprejudiced learning environment.
They also wanted to investigate whether he had violated separation of church and state when, among other issues, he had written on his class syllabi, "I teach God's truth. If you believe you may have a problem with that, get your schedule changed, 'cause I ain't changing!" (Lovely grammar, by the way! Part of God's truth, Jerry?)
Buell was removed from the classroom while the investigation was underway, and he continued to defend his Facebook comment. He told the Orlando Sentinel, "It wasn't out of hatred. It was about the way I interpret things." And he defended his right to express his personal opinions outside of school when he is no longer serving as a teacher or government employee. He even claimed that the only thing that was being violated during this process was his own freedom of speech.
The American Civil Liberties (ACLU) had to agree, noting that while they "strongly" rejected his views regarding homosexuality and objected to any teacher's "anti-gay statements that create a hostile educational experience," Buell was "on his own time" and, as a result, he was protected by the First Amendment.
But, Lake County Schools worried that Mount Dora High School, and maybe the whole district, would be associated with Buell's opinions, so they pointed to the district's newly adopted social-media guidelines in which teachers were warned, "It is vital that you conduct yourself in such a way that it does not adversely affect your employment and/or the District."
Unfortunately, this guideline was hardly a weapon against the First Amendment. Communications professor and First Amendment expert at the University of Florida, Clay Calvert, told TIME that he understood the district's desire to balance Buell's right to free speech "with the need of the school to perform its education function." However, he noted that five years ago, the U.S. Supreme Court asserted that public employees enjoy the protection of free speech when they are speaking as private citizens about "matters of public concern" such as gay marriage (Garcetti v. Ceballos).
And last year, a federal judge in South Florida ruled in favor of a high school student, represented by the ACLU, who was suspended as a result of her written rants about a teacher she did not like on a Facebook page; which means this same freedom of speech extends to social media.
So, on August 25, Jerry Buell was allowed back into his classroom where he will undoubtedly be teaching a number of students who are questioning their sexuality and now, thanks to his public Facebook rant, know just exactly how their teacher feels about such questions.
So, the question is: did Lake County Schools distance themselves enough from the homophobic rants of Jerry Buell by registering their objections to his statements which have the potential of making Mount Dora a place that is perceived as unfriendly towards gay students, teachers, and staff?
"The one thing about social media in this case," says Calvert, "is that at least now people know who this individual really is." And, while some will probably consider Buell a martyr for publicly stating what other homophobes feel, many will undoubtedly see him as a public example of intolerance because the Lake County School District openly responded to his anti-gay pronouncements just as they would have if he had disparaged a group due to their race or religion.
It angers me to think of the harm that this "Christian" teacher may already have done to some of his students who are trying to figure out their sexuality, and it angers me, too, that he might have given students who are as homophobic as he is tacit permission to harass and bully those who are struggling with their sexual identity.
 Buell has displayed various rules on the walls of his classroom. Ironically, the first rule is "Respect". And another one reads, "A cruel word cannot be unsaid."
Well said, Mr. Buell. Too bad you don't practice the same rules you expect from your students.
In closing, I would leave Mr. Buell, and those of a similar mind, with the following religious lessons which I am not sure you have learned:
* God, and only God, is the judge of man.
* We are called to love each other without judgment, and to comfort the oppressed; not to beat them down.
* Your faith is shown by your actions, not by the words of your mouth. So your pious sounding words only serve to reveal your hatred for your fellow man. Which I believe is a sin.
.
Bullying, Teacher-World's Blog Facebook, Florida, freedom of speech, gay marriage, Jerry Buell, Mount Dora High School