Ben Breedlove's Powerful Videos Air Just Before His Death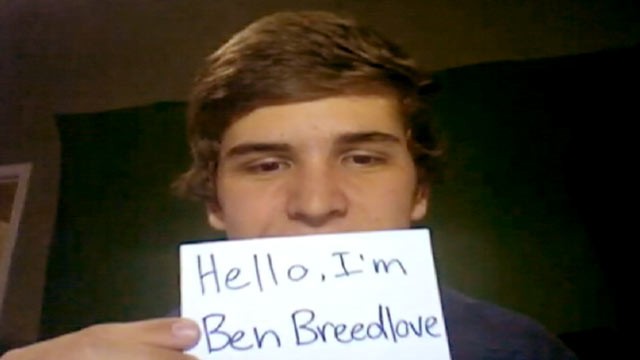 My heart has been touched today as I read the story and watched the videos about the life of Ben Breedlove, a teenager from Austin, Texas. In sharing this story with you, I hope your hearts will be as deeply touched as mine has by this brave, young man.
Ben Breedlove has struggled with a serious heart condition called hypertrophic cardiomyopathy all of his life. This condition causes one part of the heart to become thicker than the other parts which makes it difficult for the heart to pump blood normally. Because of his condition, he has had to be more cautious than other boys; he has not been able to play sports or participate in activities that are too physical.
In spite of his limitations, Ben has had a very full life. Technically creative, he has produced two YouTube channels, "BreedloveTV" and "OurAdvice4You," which offer relationship advice for teens and on which he would talk about his own life and interview other teens. Both were popular sites which received a lot of feedback. But recently, the sites have been deluged with tributes to Ben, who died of a heart attack on Christmas night.
A tragedy, without a doubt, but Ben's story is not over. Ben left his family and friends and the whole world one last gift, a Christmas gift, as it were. Without anyone's knowledge, other than his sister who he had confided in, Ben made two videos about his near-death experiences. These touching videos are poignantly simple; Ben uses note cards to tell about his disease and the three brushes with death that had left him peacefully calm about what lay ahead for him.
He told about his first brush with death when he was 4 years old. Ben remembered being wheeled on a stretcher down a hospital hallway with his mother following alongside. He wrote, "There was this big bright light above me … I couldn't make out what it was because it was so bright. I told my mom, 'Look at the bright light' and pointed up. She said she didn't see anything. There were no lights on in this hall. I couldn't take my eyes off it. And I couldn't help but smile. I had no worries at all, like nothing else in the world mattered. I cannot even begin to describe the peace, how peaceful it was. I will NEVER forget that feeling or that day."
On May 3, 2009, Ben had surgery to insert a pacemaker. Then this past summer, Ben went in for a tonsillectomy and went into cardiac arrest, the second time he had "cheated death."
On December 6, Ben suffered what he described as the third time he "cheated death." He had passed out in a hallway at his school, and when he came to, he remembered being surrounded by EMS medics who used shock pads to revive him. When he came to again, his heart had stopped beating, but he could hear them saying, "He's not breathing, his heart has stopped, and he has no pulse." He admits that at this point he told himself, "This is it. I'm dying."
He then shares a very vivid "dream or vision" that followed. In it, he said he found himself in a silent, white room with no walls that seemed to go on and on, and he felt "that same peaceful feeling I had when I was 4."
Ben's note cards tell the story about what he experienced, as his face registers his emotions, from thoughtful to smiling. He explained that he was in a nice suit, and his favorite rapper, Kid Cudi, was there in a suit as well, and he recalls looking in a big mirror and thinking, "Damn, we look good." He said, "I then looked at myself in the mirror, I was proud of MYSELF, of my entire life, everything I have done. It was the BEST feeling."
It was at this point, that Ben recalls Kid Cudi leading him to a glass table and hearing these lyrics from one of his songs: "When will the fantasy end, when will the heaven begin?" And he heard Kid Cudi tell him, "Go now."
"I didn't want to leave that place," Breedlove wrote. "I wish I NEVER woke up."
On December 18, Ben posted his two-part video titled "This is my story." He died a week later. As of today, Part 1 of Ben's story has received 1,222,857 hits, and Part 2 has received 842,288.
When Kid Cudi heard about Ben's death and his video, he blogged, "I am so sad about Ben Breedlove. I watched the video he left for the world to see, and him seeing me in detail, in his vision really warmed my heart. I broke down…This has really touched my heart in a way I can't describe; this is why I do what I do. Why I write my life, and why I love you all so much. Life is really f—ed up sometimes, but I know Ben is at Peace, and I hope he gets a chance to sit and talk with my Dad. We love you Ben. Forever. Thank you for loving me. To Ben's family, you raised a real hero, he's definitely mine. You have my love."
Pam Kohler, a close friend of the Breedlove family, said, "It was obvious to all of us that knew him that he knew what he was doing when he made that video. There are times that [the family is] overwhelmed by the pain and the loss of Ben, but then it's replaced with knowing that he was at peace with what was going to happen."
"Because of the experiences he'd had, he was ready and he was prepared. He really wanted to know that peace again. He was facing more hospital stays and he was tired of it," Kohler said. "He wanted [his family] to know that he wasn't scared and was looking forward to returning to that place."
What a priceless gift this brave, young man gave to his grieving family and friends! In spite of the sadness you feel when you watch his videos you can't help but feel joy. Ben's message fills us all with peace and hope, leaving us with little doubt that he knew death was close, but he wanted us all to know that he was not at all afraid to face it.
Ben's last two cards end like a sweet, poignant prayer, "Do you believe in angels or God?"
"I do."
Bless you, Ben. I believe!
Teacher-World's Blog Ben Breedlove, hypertrophic cardiomyopathy, YouTube