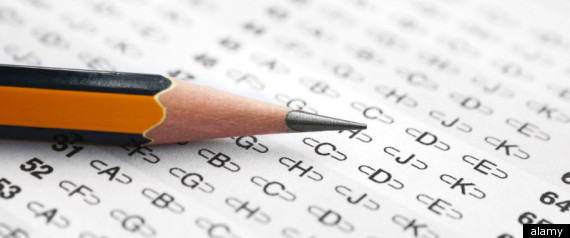 New York's Department of Education has suggested some measures to make it harder for cheating to occur on state achievement tests, a necessary step since the outcome of these tests effect the futures of students, the ratings of public schools, and teachers' careers. We need only look back at what happened in Atlanta and several other districts to be reminded of what happens when the ambition to procure high test results overrules integrity and reason.
With the recent prosecution of a college student who was accused of using a fake ID in order to take SAT college board exams for six of his friends, the revoking of eight Atlanta teachers and three school administrators teaching licenses for cheating, and investigations of cheating in Philadelphia, Los Angeles, and Washington, D.C., New York's Department of Education has recognized the necessity of dealing with this serious issue.
The report issued to the state Board of Regents targets cheating which occurs during the administration and scoring of Regents exams by students, teachers, and administrators. (Incredibly, it seems that in New York, teachers are involved in the process of scoring their own students' exams. Now that is a recipe for disaster if ever there was one.)
The report zeroed in on "erasure analysis" since spot checks regarding wrong to right erasures on tests in seven unnamed schools noted "a statistically improbable grouping of scores" statewide which were just above the passing mark.
And records which were released on October 21 to The Associated Press under a Freedom of Information Law request which was submitted in July uncovered an increasing apprehension regarding teachers prompting their students toward the right answers or inflating test scores. This was especially true with tests near the 65-percent passing mark.
Another issue mentioned in the state records provided to The Associated Press showed the difficulty for the state Department of Education to prove incidents of cheating when they operate with such a small staff. Many of these cases entail the erasing of wrong answers to correct answers with no direct evidence of what prompted students to make the changes in the first place; were they changing them on their own after careful consideration or were they being encouraged by someone else to change them?
The occurrences of cheating on these exams have caused frustration to both parents and students because sometimes all of the scores have been expunged due to cheating. This forces all students to retake the exams in the summer of the following year, whether they were cheating or not.
The report sent to the state Board of Regents on October 17 sets education policy and keeps the state from trailing most states in efforts to combat cheating, as they have been doing. It puts them on course toward taking and scoring Regents exams on computers by 2014, allowing faster analysis of answers and allowing teachers to score tests from other counties within their states. This would potentially mean that teachers would not score their own students' tests, thus removing the temptation to cheat. 
Additional changes recommended by New York's Department of Education, as reported by Education Week, include:
• Spending more than $2 million in the 2012-13 budget to spot check more Regents exams and move to greater analysis of all Regents exams and their scoring.
• Prohibiting most teachers from scoring their own students' exams, although some benefit was seen in allowing teachers to be present during testing and proctor their students' tests.
• Retaining tests for more than one year, as now required, for potential investigations.
• Moving to "centralized scanning" of multiple-choice questions to better spot possible cheating. New York is unique in relying on local scoring, "and significant investments have been made at the local level to develop infrastructure." That includes assigning teachers to scoring duties and hiring substitutes to cover their classes.