Why Did This Good Teacher Decide to Quit?
I read this story from CNN about an amazing teacher who has been extremely successful and loves what she does, but has left the teaching profession nonetheless. Let me share her story, because it speaks to the issue of how our society undervalues teachers while at the same time, expecting more and more of them with every passing year.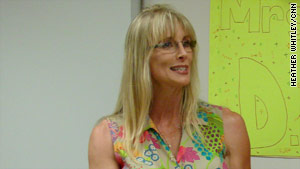 Linda DeRegnaucourt teaches AP calculus at Palm Bay High School in Brevard County, Florida. She has been teaching for 13 years and has earned recognition over that time for the excellent work she has done. After her first year of teaching, she received an award for "Rookie Teacher of the Year," then later "Teacher of the Year," and has gotten 100% passage of the AP calculus exam for the past seven years. (Not an easy task!)
She loves teaching, and has a great rapport with her students. So, why won't she be in her classroom in August? Quite simply, she can't afford to be. After 13 years of teaching, Linda makes only $38,000 a year, which after taxes leaves her with about $2,400 a month. Her salary is less than it was in the past when teachers earned larger supplements for additional certifications; now a thing of the past.
Linda told CNN, "When you start taking out rent, utilities, car payments, there's nothing left. It's demoralizing to you. You wonder why you put all this energy in, and, yes, the kids appreciate you, and the kids love you for it, but, at the end of the day, I still have to pay my bills."
Linda was divorced two years ago, so is now living on a single income. She owned rental properties to supplement her income, but due to the hit Florida's real estate market has taken over the past few years, instead of adding to her income these properties have caused more financial strain for Linda. After five years without a raise, and no sign of teaching salaries increasing in the near future, she has made the difficult decision to leave the job she is so good at in order to go back to school to become a nurse, where she will earn, on average, about $62,000 a year.
"I hate to have to leave it," DeRegnaucourt said. "I really thought I was going to be that teacher, 65 years old and retiring from the education field. That's not going to happen."
When Linda was asked by a CNN reporter how hard it was to make the decision to leave, she tearfully replied, "It's heartbreaking!" At this point, she broke down and could not go on, and my heart broke for her as well.
Some of you are probably thinking, "Okay, so one teacher is leaving the profession, so what? You're writing a whole blog about this one teacher?"
Well, actually, it's not just one teacher and it's becoming increasingly more challenging to keep good teachers in the classroom according to a 2010 report by McKinsey & Company called "Closing the Talent Gap." Here are the statistics: In the U.S., the average starting teaching salaries are $39,000, and these salaries tend to rise with years of experience to $54,000 on average. According to this report, teachers' salaries can't compete with other careers causing an average teacher turnover rate of 14% every year, or 20% at "high-needs" high schools, and 46% of teachers leave within the first five years of teaching.
Additional information from the Organization for Economic Co-operation and Development from 2007 compared teacher salaries in the United States with teacher salaries from other countries, and its findings are eye opening. The U.S. ranks 20th out of 29 for starting salaries and 23rd out of 29 for teacher salaries after 15 years. Does it come as a big surprise that so many young teachers are bailing?
CNN interviewed Ninive Calegari, the founder of "The Teacher Salary Project," who said, "When you look at high achieving countries, their turnover rates are 3% or lower. So they work very, very hard to not only attract teachers that they suspect are going to be successful, but they work incredibly hard to train them, and then they do whatever it takes to retain them. And we don't do that."
"Five years ago, ten years ago, kids would ask me, should they become teachers? I was like, 'Oh, God, yes, I love what I do,'" Linda said. "Now, I tell my kids, 'You're really, really bright. Why don't you think about going into (this or that?) They have the potential to be doctors, lawyers, nurses, CEOs and scientists. Why would I recommend to my kids, who I absolutely love, to struggle for years?"
When asked by CNN what Linda hoped her students would take away from their time in her classes, she said, "I want them to get a love not of mathematics, just knowledge, just learning. I want them to always remember how anything was possible." Can we afford to lose teachers like this?
Can a teacher survive on a teacher's salary when they are the sole supporter of a household, especially with kids? Unlikely. I have experienced divorce as well, and rather than get out of teaching, I have had to supplement my income ever since. I have always had at least one extra job to bring in the income that I cannot make in my chosen profession. For the past three years, I have carried two extra jobs on top of teaching and all of the extra work that teaching requires in the evenings and on weekends. It isn't an easy life, and my husband would be the first to say that I am always working, leaving us very little time to spend together.
Am I the exception? No, most of the teachers I work with who have families have a second job outside of school or take on supplemental contracts through the school district in order to make ends meet.
Young people just starting out are probably less willing to have to work so hard to earn what just comes naturally in other professions. And so, they leave, and we lose potentially awesome teachers every year in the United States. Is it possible that if the United States put the same priority on keeping good teachers that other countries do, we might see the higher achievement levels that these countries do as well?
Maybe it's not rocket science trying to figure out what's wrong with our education system in the United States. Maybe a lot of it is just paying good teachers (and not just based on test scores but on daily excellent work) what they deserve, thus retaining those good teachers and building stronger schools.
At the end of the CNN interview, Linda regretfully said, "I'm not saying they may not find an amazing teacher to replace me, who also motivates the kids, who also inspires the kids, who also loves the kids. But, what if they don't?"
And what if school systems everywhere that are losing good teachers every year don't? What happens to our kids then?
Teacher-World's Blog "Closing the Talent Gap", "The Teacher Salary Project", CNN, Linda DeRegnaucourt, retaining teachers, teacher salary